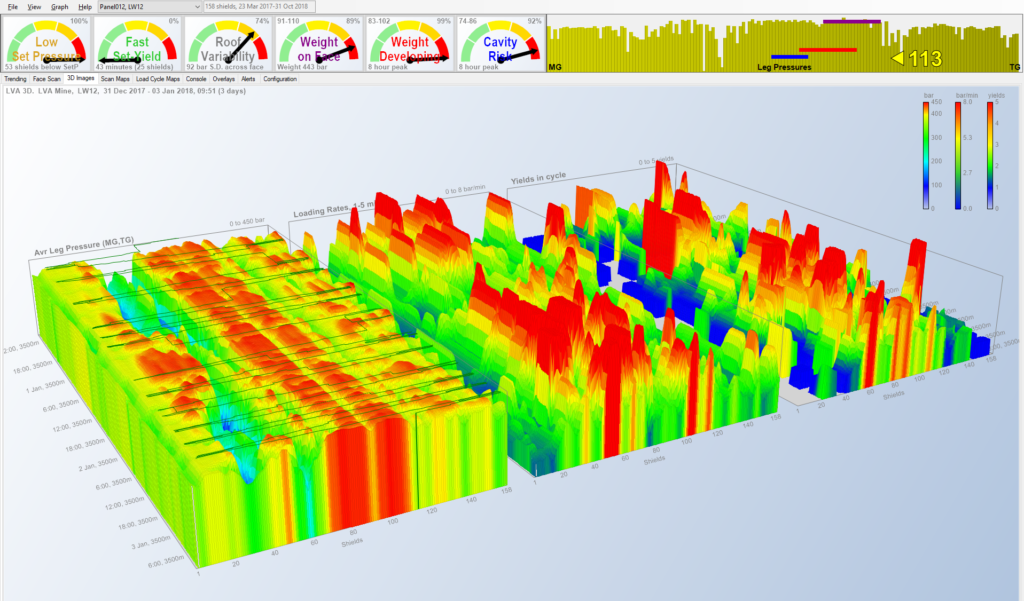 LVA Software
LVA is a software app that monitors, displays, analyses and reports on important data from your longwall. LVA stands for Longwall Visual Analysis. LVA has been in development since 2016 and is currently running live on nearly all Australian longwalls. Operators use the software for instantaneous feedback on longwall pressures and conditions, Geotech engineers also like the longer-term views of the 3D and load cycle data, maintenance personnel like the ability to see poorly performing supports, and managers like the ability to have a quick overview of production and general conditions. The emailed alerts with daily snapshots are also very popular.
Operating modes
 Live mode for real-time display of your longwall performance.
Historical mode for reviewing past data.
Any number of users can run LVA on their desktop or laptop for live
views of their longwall data.
View selected LVA data via web browser.
Server/User/Viewer modes let you control who can modify layouts
and settings.
Summary of features
Any number of users can see the longwall data live on their desktop.
Managers or Group employees can see multiple longwall sites over the network, including from head office.
Show 2D & 3D visual representation of longwall leg pressures, shearer position, system pump pressure, DA ram, LAS cycle times, shearer pitch and roll angles with floor profile changes, gas concentrations. Show shield heights if instrumented, and top coal caving data if applicable.
Trending of supports showing leaking legs, calibration issues, yield counts, set-to-roof cycles, loading rates, cycle durations, time weighted average pressures (TWAP).
Automatically read daily chainage data from spreadsheets.
Data can be displayed versus time or chainage.
An alerting system continuously monitors for many operational triggers including the risk of weighting events and roof cavities forming (Cavity Risk Index).
Emailed alert messages and images for many conditions such as daily snapshots, weighting events, high rates of yielding, high or low pressure regions.
Load cycle maps showing data versus shears (1 row of data per shear for a whole panel), including TWAP, yields, low set pressures, loading rates, calibration, leaking and cycle durations.
Overlay your longwall data onto AutoCAD mine plans.
Live LVA images can be made available via web browser using the Weblink feature.
Displays and analyses
2D and 3D images for trending and visualisation of the status of your longwall.
Algorithms identify set-to-release cycles and shears across the face, and calculate related data
such as yield events, loading rates, sensor calibration issues, and leaking legs.
Several gauges can be configured to give advance warning when there is a high risk of cavities forming, or when high weighting is developing, as well as snapshots of low set pressures, set-to yield times and roof stability.
Alert messages can be issued and emailed when certain conditions are triggered.
Longwall data for a panel can be overlaid onto mine maps.
Comprehensive display and reporting options.
Most graph images can be copied or saved, or exported as data tables.